.
GAO Questions Wisdom of Public Private Partnerships
Government Accountability Office testimony warns of need to better assess the true cost of privately operated toll roads.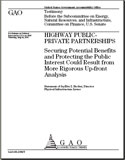 The Government Accountability Office last week questioned the wisdom of using public-private partnerships to build and maintain toll roads. GAO's Director of Physical Infrastructure issues, Jay Etta Z. Hecker, summarized the congressional watchdog agency's work in testimony before a US Senate Finance subcommittee hearing on Thursday that focused on the cost to the public of privately operated toll road leasing arrangements........


"There is no 'free' money in public-private partnerships," GAO's report stated. "They are potentially more costly to the public and it is likely that tolls on a privately operated highway will increase to a greater extent than they would on a publicly operated toll road. There is also the risk of tolls being set that exceed the costs of the facility, including a reasonable rate of return, should a private concessionaire gain market power because of the lack of viable travel alternatives."